Water Jet Nozzle Tungsten Carbide
BLAST CLEANING NOZZLES FOR MIXING WATER WITH ABRASIVES.REDUCES AMOUNT OF DUST DISPLACED INTO ATMOSPHERE BY INTRODUCING WATER INTO ABRASIVE STREAM.

NEEDS A CONNECTION TO A WATER SUPPLY. FOR PLAIN WATER, NOZZLE CAN BE CONNECTED DIRECTLY TO AVAILABLE MAINS WATER SUPPLY WITH AT LEAST 40 PSI OF WATER PRESSURE.


CAN BE USED WITH WATER OR WATER MIXED WITH RUST INHIBITORS. A PUMP WILL BE NEEDED WHEN MIXING WATER WITH RUST INHIBITORS.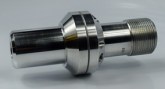 Tungsten carbide Water Jet nozzle, 1/2" Bore. Hose assembly ...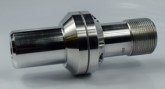 Water Jet nozzle, 7/16" Bore. No hose assembly.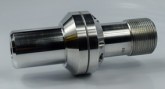 Tungsten Carbide Water Jet nozzle. 3/8" bore. Hose assembly ...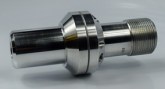 Tungsten carbide water Jet nozzle. Bore 3/16" Hose assembly ...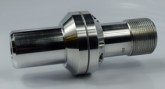 Tungsten carbide. Water Jet Nozzle 1/4" bore. 1-1/4" ...