Tungsten carbide Inserts O.D. 0.50
Why use Tungsten carbide replacement inserts/nozzles for siphon guns? They last longer and can result in increased blast cleaning productivity.
How do I know if this insert will fit my blast cleaning gun? Since there are many styles of siphon guns on the market it is important to identify correct replacement carbide tips. In this case, these parts work with guns that are "SKAT" Style. (Fits these gun assemblies S-35, C-35, S-25, and C-25.)
Additionally, check external dimensions of tip you are currently using, if O.D. = 0.50". Length 1.563" (1-9/16") as shown in picture below, then TCI-SB35 series should fit your gun.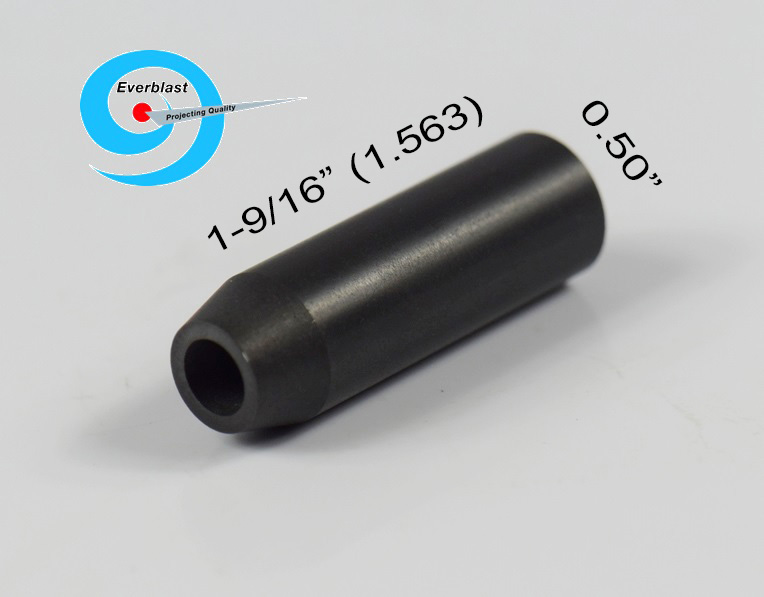 Our replacement Carbide Inserts are substitutes for:
Ceramic nozzles, that can wear up to 10 times faster than a tungsten carbide equivalent.

Steel nozzles that can wear up to 25 times faster than tungsten carbide.
Some advantages of using a carbide tip / insert over ceramic or steel:
More working time when compared with steel or ceramic inserts.

Less need to increase compressor output/CFM as carbide bore doesn't wear out as quickly as ceramic/steel.

More consistent blasting performance as insert bore lasts longer.

A more consistent abrasive exit speed, for a longer period, as bore I.D. wears out slower than either ceramic or steel.

Reduced time between insert changes.
Manufacturer:
Everblast Inc
Results 1 - 3 of 3

Tungsten carbide insert 1/8" straight bore
Tungsten carbide insert 3/16" straight bore
Tungsten carbide insert 1/4" straight bore