EVB-CB3
Description
Curvoblast's exit OD has been designed to reduce nozzle exit profile allowing access to narrow spaces.
Curvoblast consists of a Curved section incorporating a single piece liner part number EVB-CB3, shown in center of picture. Also available is a tungsten carbide lined brass thread convertor - part number TA-CB2-114 (shown in front of picture).
Pictured below curved nozzles with brass thread convertor.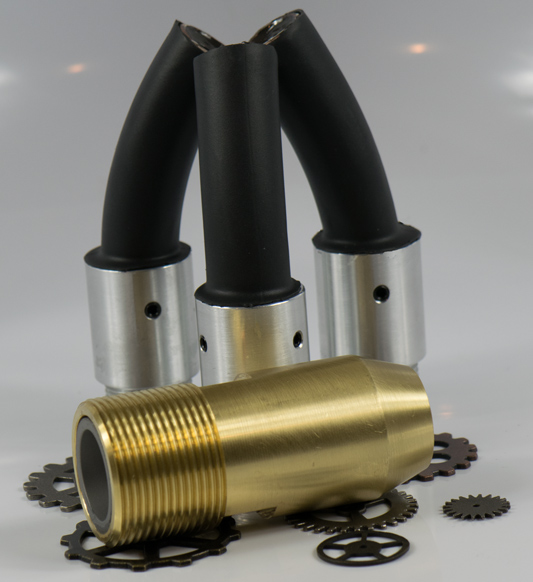 ™™
Curvo-Blast ™

Pictured above:
(1) Curved Nozzle
light weight.

Sylacon advanced ceramic liner.

one piece liner construction.

Narrow profile. (0.88" O.D. over curved area.

Length 4.85" (without thread convertor)

Bore 3/8"

Model Number EVB-CB3

Part number 754111

30 degree bend.
(2) Brass thread convertor with tungsten carbide liner. This acts as an interchange between a standard 1-1/4" threaded nozzle holder and 3/4" threads on curved nozzle. (TA-CB2-114)